Secure Premium Pre-Owned mobile phones and tablets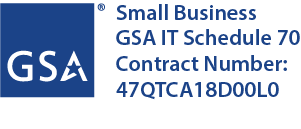 The secondary market is booming, and by 2023, 1 in 4 mobile phones sold in the U.S. will be pre-owned. That's no surprise, when you consider the substantial cost savings compared to a brand new phone. Now, PCS brings those benefits to the government through our Secure Premium Pre-Owned devices, so they too can benefit from the best the secondary market has to offer.
PCS is an approved government partner, holder of contract number 47QTCA18D00L0. You can access our pricing, product list and terms & conditions, as well as place an order, at the GSA Advantage website. In addition to our highly competitive pricing and wide range of SKUs, here are four more reasons to buy from PCS.
1. Trade-In and BuyBack for Government entities
Trade in your existing equipment, generating significant monetary value, or exchange for new technology. Either way, you're minimizing costs and generating value. The process is simple, straight-forward and hassle-free. We ensure safe and secure disposal of sensitive data.
2. Privacy & Security
Our NIST-800 and NAID compliant data clearing system ensures that devices received are cleared of all data and restored to factory settings. PCS Wireless is both ISO 9001 and ISO 14001 Certified, and we also hold R2 Certification, meaning we are audited for the quality, safety and transparency of our process. For more information, visit Compliance.
3. Environmental Sustainability
As one of the founders of the secondary market, PCS has ensured that millions of devices are re-used rather than disposed of. Where technology has reached the end of life, we recycle in an environmentally responsible way. All recycled devices are sold to R2 Certified companies, and PCS itself holds R2 (2013) Certification. For more information about how we can help you meet your sustainability goals, visit Responsibility.
4. One year warranty
We offer an exclusive 1 year warranty to our Government clients, ensuring peace of mind.
Past Performance
NAICS: 334111 Electronic Computer Manufacturing
334112 Computer Storage Device Manufacturing
334210 Telephone Apparatus Manufacturing
334290 Other Communications Equipment Manufacturing
423690 Other Electronic Parts and Equipment Merchant Wholesalers
DUNS: 008141843
CAGE: 7ZGD1